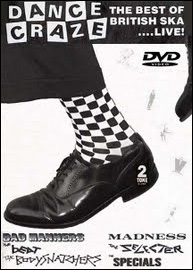 When you work out of the house, streaming a two hour concert in the bottom corner of the monitor is an acceptable use of screen space.  I've got no one to annoy if my speakers sneak up to eleven, no one to mock my chair-bound dance routines.
Admittedly, two hours of 2 Tone's second-wave cockney-ska might be more than most of you can take.  But if you've got the inclination, this British live-in-concert film from 1981 is great stuff. It's even got a charmingly paternal intro:
"It's an off-beat top-tapping sound, a rhythm for their feet that takes high-spirited youngsters off the streets and into a music that speaks to them. When these bands start swinging, our young people are in total agreement. The only word for it is fun!"
A few bands on here everyone knows (The Beat/Madness/The Specials), a few I only know a little (The Bodysnatchers/The Selector), and there's one I've never noticed:  Bad Manners.  Whoever these Bad Manners are, the big bald guy who leads the sweaty charge is everything a rude boy ought to be.
I can't help but think how much I'd love to play in one of these acts – no one's that great, but it all adds up.  Just a half-dozen friends going nuts for a 10-song set.  There's room for everyone:  Blacks and whites; native sons bouncing to immigrant sounds; boys and girls; punks in leather, nerds with trombones. Racial harmony, world peace. International reconciliation.
Ska looks a lot like Heaven. Give this movie ten minutes, you just might see the light.
So here it is:  DANCE CRAZE – THE BEST OF BRITISH SKA…LIVE