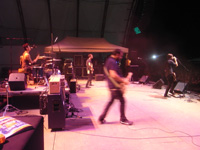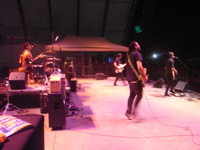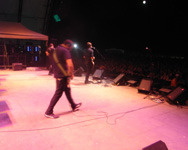 Because how often does that happen?
All of my favorites have had their moments, and sometimes I've been lucky enough to catch the right show at the right time to add some live proof to the mix. But there's rarely a need to repeat the experience.  You're rolling the dice, and the odds are not in your favor. Whatever it was that captured your heart on that first magic night is likely be over.  Maybe the show got too big and your love's lost beneath the bright lights. Maybe the venue's too small, and golly it's just so sad to see them now.
Not that I always mind. Rock shows are like pizza: even when they're bad they're still pretty good. You know I'll always be up for catching another Jane's tour, and if Against Me and The Hold Steady swing through town again, I'll be there in a heartbeat.  You can even go tell Tegan & Sara that I'll be back.  I'm very forgiving.  Except for you, Mr. Matisyahu, but that's another story.
But I digress.  This post is about House Of Heroes, that rare band that keeps getting better. I used to catch them around Columbus a bit, and they were surprisingly solid for some local kids. They bent ears by adding a few tricks to the tunes – a vamp, a breakdown, switching up the ol' I-IV-V rock 'n roll formula with some harmonic imagination.
That was all well and good, but somewhere along the line they really learned how to play.  I hate to use the term metal – it's charged like lighting – but the chops are getting so sharp, it's getting hard to avoid the word.  But don't worry, these are pop guys with a knack for a good riff, which makes them the exact opposite of the Def Leppards of the world (riffers with an ear for a good tune – not that there's anything wrong with that either!)
As the fates would have it, they play Sioux Falls every Labor Day at the LifeLight fest — just 10 miles of dirt road from my abode — so I've seen 'em here more than I ever used to see them there.  I'm really glad they make the trip, and that they spend the rest of the year tightening up new tunes for the tour.
'Til next year, boys.  Keep up the good work!
(Photos by Grant Wentzel, kindly used by permission.)