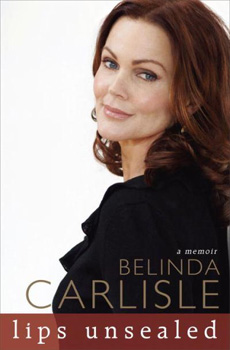 "Hey, buy this for me for Christmas."
So my wife and I have this unspoken arrangement. We spend so much time trying to get Christmas together every year, finding nice things for distant relatives, putting together an impressive yet non-gluttonous pile of surprises for the kids, that we pretty much forget about each other until the blessed day is thrust upon us.  While running our last-minute errands we'll see something and say, "buy this for me for Christmas" and toss it in the cart, knowing we'll find it again miraculously gift-wrapped under the tree on Christmas morning.
A pair of jeans on the clearance rack at Target. Office supplies. A bottle of champagne. Whatever. You name it. And yes, it might even be the auto-biography of Belinda Carlisle, whom I found languishing and lonely at the grocery store in a close-out bin. She was wedged between Ricky Martin's tell-all and Chicken Soup for the CEO's Soul. Only $2.50 for the hard-covered inside scoop on the Go-Go's?  Deal!
As you know, I like most anything about people making music (yes, even Gwyneth's objectively awful Country Strong.) And while Carlisle was reliving the wild early-80's LA punk scene it was a good read.  Those days were all about the music, the art, the fun of going to shows and being in the know about the latest greatest coolest rock 'n roll music.  From Devo to David Lee, this girl partied with a lot of interesting kids, all trying to make it on the Sunset Strip.
Her life, way cooler than mine.
But then success hits ya and the wheels come off.  They always do in these things.  At which point it's hard not to mock her relentlessly for the #richwhitegirlproblems.  Lines like "we were bourgeois on the outside, bohemian on the inside" (spoke as she wrestles with a possible move to southern France) are hard to get behind.
Oh dear, what to do, what to do.
But as the 12-steppers say, you've got to "identify and not compare." Belinda's just a sweet California girl with a mile-wide, coke-fed wild streak that never went away. I guess if you strip 'er story of the success and the millions and the home in Provence and the international drug trafficking, there's a lot there that rings true for any of us. Maybe. Who's to know what a little fortune and fame would do. I'm just glad that she got it together. Eventually.
And that yes, once again, she's got the beat.