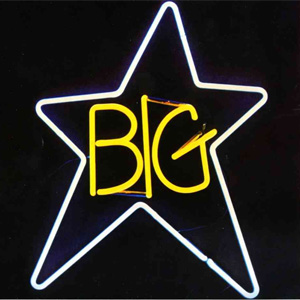 For the last few Septembers, the persnickety music snob in me has felt the need to post a social media announcement to the effect that this would be a good time to listen to Big Star. While that might be true, I have to admit that I had nothing to add to the conversation.  I was just fishing for "likes" to make life a little less lonely as the sun set sooner and those hoary blues began to loom.
This time around, let's change that by doing some proper contributing.
I've been trying to find a quick-and-dirty way of recording covers and demoing original tunes to pass around to y'all.  Big Star's "Thirteen" seemed like some good material to practice on. The song's been stuck in my head for weeks now.  Not sure when and where I heard it again, but what a tune.  It's my kind of show-don't-tell writing: simplicity through specificity, an uncluttered canvas to reflect all your imaginings and lost-longings and misty-minded recollections.
Either that, or I just never got over junior high.
My trouble these days is that I can kill a lot of time trying to get everything balanced out when building a bigger production with drums and keys and all that nonsense. And I don't have the time to do it all the time.  I gotta find a way to get it done in an hour. Close the gap between inspiration and presentation. Real life (and real practice!) demands my attention.
Another thing: Some of my favorite albums are the little ones, like Springsteen's "Nebraska", or Pedro The Lion's "Hard To Find a Friend." That's where I want to be. Capture some lightning in my bottle move on to the next adventure.
I recorded this in two takes – a straight vocal/guitar pass and then another acoustic guitar overdub.  I ran some of the stuff through my Fender Deluxe Reverb for an authentic (if non-traditional) echo, and trimmed it up with the normal eq/comp-type plugins.
I'm trying to find a process.  And I'm trying to find a sound.  I'm trying to use what I have to get together a no-excuses go-to setup to suit my songs and flatter my pipes. Gotta put it out there. 'Cause when I don't, I die a little inside.
Wish me luck.