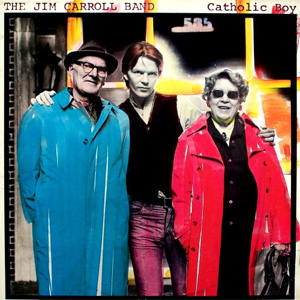 I caught on to Jim Carroll right around the time he shuffled off. Not sure what made me think to give Catholic Boy a listen, but there's a fair chance that his death had something to do with it, that some obit came into my orbit and made me curious. Maybe I streamed Leo's Basketball Diaries first, picked up the record second. Whatever it was, "People That Died" immediately sank into my head, left a mark, and I thought "by gosh, that's truth there, that's what it is."
And then I thought: You're a fucking idiot. You don't know anyone who's died. I mean not really. Not your people. WWII's people, the Great Depression's people. But not your people. You don't know what he's talking about. You've never been to Rikers, rumbled with bikers, never scored dope down on St. Mark's, never really been to the city at all.
Until this year. Until not one but two were lost last winter. One quick one slow, one hospital lingerer another down in one blow. Lucky me, now I know people who died.
We don't fall as fresh and fast as Carroll's pals. There's no blaze of glory, no movie-making magic. It's not so poignant, so poetic when we go down after fighting on for a few more rounds. We take our time, stiffen the upper lip and wait it out a few more years. Push it back and push on. Make it work, get a job. Find a girl, settle down. Man up and fake it a little longer.
But now I know: When Jim sings about his friends he could be singing about mine. I wasn't wrong to think it applied. I wasn't wrong then and now I don't want to be right. I wish it wasn't so. I wish I was just another fucking idiot kid nursing an adolescent bent, sniffing out the tragic cracks of life. That our wild-eyed expectations, our declarations of mad intent, were not hid in our hearts like long-bearded prophecies. But that we left our longings lie – laughable larks, follies of life-drunk delusion to be forgotten with the dawn.
That we could burn forever "like fabulous yellow roman candles exploding like spiders across the stars" without the fizzle-crash of cold morning smokey dissatisfaction with how it turns out. How it always turns out.
I don't want it to be true. It take it all back. I miss you.
[…]
And I remember when you drove me home that night, another night that went so late we didn't beat the sun. And I remember when you played me your tapes and told me to shut up and listen. And I remember when you crashed my party. And I remember when I crashed yours. And I remember the times when we forgot to sleep. And I remember the times when we laughed. And we laughed when we were good. And we laughed when we were bad. We laughed the night I saw you last.
Business called me to hustle your new town. Another swing at life, faking a fling of good fortune. Look at me! I'm a self-made man on a tie-wearing trip to your city, spreading some money around. I done good – let me prove it to ya. And you're doing fine too.  I'm so sure of it, you've kicked the habit right? It's just drinking now, right? That's no biggie. Sure sure, that's fine. Wait, a new dealer? How'd you manage…how do you meet these people? You're such a crazy nut! How 'bout another round, on me!
And you drove through my town a year or so ago. To start a new life with a girl in tow. And I didn't call you to stop you to tell you to stay. I was too sad for you to see me this way. Puffy-eyed and pasty-faced and paxil-ed out. But you were happy right? You must have been happy! We're always happy when nailing down shiny-fresh stakes in virgin turf and dreaming of the newness to be known. How could you not have been happy?  You're supposed to be happy, dammit. We're all supposed to be happy. Lord Almighty, we've seen the light! Right? No more sorrow no more…?
The bullet and the blood and the brains on the street and the baby wailing from the womb.
The IV drips and the mad rush of life slips to a yawning end.
[…]
These are people who died. Yes,
These are people who died.
And they deserve their own song;
They deserve their own stage.
Just as true.
Every bit as real.
And don't you fucking tell me that it's not.
play here: my take on People Who Died