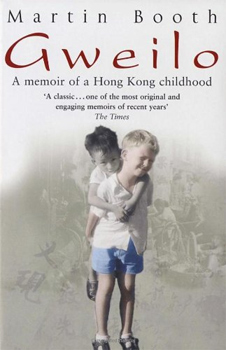 A friend of mine from the last life taught me that the best way to know a new place is through spine-cracking a good book.  Not a hard-backed history or a glossed-up travel guide, but a real book.  A story.  A solid fiction to open up your reality.
Find a writer with a razoreye for detail, a pitchperfect ear. An author who can seize the great muchness of life and filter it through stinkyreal flesh, through characters of unpure invention. Hang your facts on their broken hearts, their feats and failures, and you'll start to understand what's really going on. Let these creations be as spirit guides, ghosts to walk beside you, all-hearing and knowing companions. Faithful friends to ride with you on vomitous busses, to usher you through uncertain cuisine, to code-break customs.
Buzzing with the maxim, I hive-minded my way to a book called Gweilo in the run-up to my first visit to Hong Kong. My new friend for the road was going to be a kid named Martin.
Gweilo, written by Martin Booth, didn't exactly fit the original criteria: it's a memoir, not a novel. But you can't tell me there's much of a difference between a youthful reminiscence and the bildungsromans that we've all adored as gospel truth. Close enough for me.
The plan was to read far and wide before hitting the ground. I wanted a fact-fillable framework in my mind, a matrix to be explored upon touching down. Of course, time ran out and Gweilo shifted from introduction to early-morning companion as my jet-lagged self sprung out of bed too soon too often.
Good too, because blessed synchronicity followed me and Martin on our days. I read about Christmas on The Peak on December 25th.  I traced his rough-climbed journey up to the mountain monastery on the very same morning as our scheduled outing to the Big Buddha that now levitates atop Lan Tau. (The modern pilgrimage is now assisted by subway and bus, but I'd like to go back and do it the old-fashioned way.) Seemed like everywhere I went in this fresh-built city of 7 million was an ancient place already known. Martin had told me about it.
Glad too, because his time in Hong Kong – as the son of a post-war British naval administrator – overlapped precisely with the arrival of my married-into family. This was a part of the history I wasn't told, or if told, I didn't understand: That Hong Kong wasn't much of a place before then, before the revolution, before they all arrived.
Mao-swept, innumerable. Fleers and fliers, a flood of single-suitcased refugees.  A sharp and restless throng who soon haggled and bartered an imperial outpost into the first great engine of the east.
Without Martin, I wouldn't have known the questions to ask. I wouldn't have had eyes to catch what my elders could still see. I wouldn't have known how to find my place, to feel the ghosts between the graves, the ossuaries of the ancestors.
And Martin, full-up with the foolish zeal of youth, rubbed off on me. He gave me courage, lent me his ambition. If this kid could dive in, I knew that I could too.