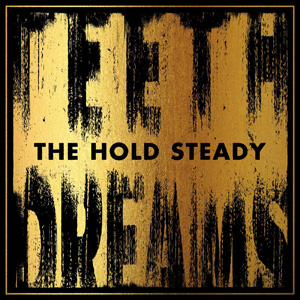 "It sounds like Christian rock."
So this month's favorite album is quickly disparaged by the middle school music critic who rides shotgun with me on my daily rounds. But what does he know? He likes hip-hop, spends inordinate amounts of time studying the violin, has no frame of reference for the great and hallowed canon of rock 'n roll music.  But he has an ear, and the crunchy chords, the peppy beat, the anthemic sweep on the top half of Teeth Dreams reminds him of certain Sunday mornings.
It's tasteful, it's slick, it's pro – and there's nothing particularly wrong with that. Except that The Hold Steady's not that kind of band. And Craig Finn's not that kind of singer. The guy from Pitchfork called it "handily the Hold Steady's worst-sounding album." (That's an excellent review, by the way. It really negates the need for anyone to write anything else about this album again, ever.) He's got a point.
I'd have dialed it in differently. But it's still The Hold Steady, still the same beat-poet meets E-Street vibe. If you peel back the production, if you give the songs a chance to breathe, the kids come out like they always do. Emerging from chillout tents, the party pits. Hoodrats crawling up from under crumbling bridges, boys and girls wrapped in that American sadness.
Just like my experience with band itself: The Hold Steady found me once I saw through the media-molded Brooklyn-based pose, the hipster affectation, realized that they were mid-west born, great-lakes raised. Priests of the prairie, shouting out loud about this stuck-between-stations life, setting free the souls shackled to another second-string city. These are my people, I tell ya. We've knee-scraped the same prayers, clutched at the same cross, hail-mary'ed our last-call hopes on another shot of abandon.
"She's two years off some prairie town, she goes out most every night, she dresses up and she spins around."
That's from "Spinners," the second track on the album. It catches up with one of these kids somewhere in NYC. She's trying it all on, figuring out how it works for Carrie Bradshaw and Lena Dunham, defiantly failing. This girl, I've seen her before. I've watched her graduate year after year, shook hands with her parents at the late-May parties. Wished her well on the internship, the indentured adventure to the big city.
I keep getting older. She stays the same.
And I've got a hunch I'll be growing old with these guys too. That'll be me on the porch with Craig Finn someday: rocking-chaired with a don't-mind-if-I-do flask, spinning stories about the same wide-eyed kids. Over and over and over.
So then, here's my take on the tune: